For one day only, every order comes with a shot of energy!
Get a free bottle of Grape Rhino Rush with the purchases you make today. This Ephedra powered energy shot is the perfect blend of metabolism-igniting power and extremely potent energy boosts.
Don't let go of this deall Get your FREE Grape Rhino Rush with your order and experience unstoppable, long-lasting energy!
RHINO RUSH EPHEDRA SHOTS
– Increases alertness and enegry levels.
– Helps the body burn more fat while at rest.
– Easy to carry and drink no matter where you may be.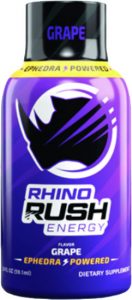 [promotional_page_products]
Our industry-leading 100% satisfaction guarantee

Free shipping on orders over $99

bulk discounts on many top selling products

Live customer support staff