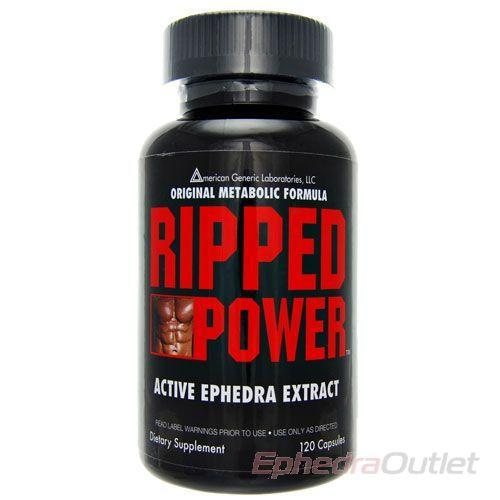 Original Ripped Fuel took the world by storm
but was gone almost as quick as it arrived. Even today, seventeen years after it left the market, people still wait for a product to match the intensity of Ripped Fuel.
That's where Ripped Power comes in. Ripped Power is ready to take the throne from Ripped Fuel as one of the most intense ephedra products ever. Ripped Power is designed to provide all-day energy to go along with the same amazing fat burning as Ripped Fuel.
How Ripped Power Can Increase Energy
You see them every day. They are your co-workers, your friends, and maybe even you. Do you go to work and stare at the clock waiting to leave so you can "enjoy" your free time only to go home and sit on the couch until it's time for bed? Or do you feel so sluggish chasing the kids around that you are constantly in a poor mood?
It doesn't have to be this way. Ripped Power channels the energy once delivered by Ripped Fuel and can provide an all-day energy boost that can help you start living life again. Ripped Power can help you experience no more three hour naps after work (unless you love them!) and no more feeling like you're 10 steps behind your kids. Ripped Power can have you energized all day long. Or maybe you hate the extra 10 pounds you are carrying around? Maybe you are ready to put on that favorite dress or pair of jeans that fit so perfectly five years ago.
With long lasting energy, Ripped Power also helps with fat burning
Ephedra has been used for hundreds of years to help burn unwanted fat. So instead of shopping for clothes to fit your "new" weight, go shopping in your closet for the clothes that fit your right weight.
Don't just take our word for it
BRITT B FROM TOLEDO casually states that Ripped Power does compare to original Ripped Fuel… You mean "The Ripped Fuel???" The King of all ephedra?
DEREK M FROM CARMICHAEL says that Ripped Power works great and gives him energy for those challenging days… Doesn't that sound great? A little boost of energy for those days 10 or 12 hour workdays?
So is Ripped Power the most comparable product to Ripped Fuel (king of all ephedra products), which provides smooth, lasting energy and burns fat? It absolutely can.
Does Ripped Power have other benefits?
We are backing Ripped Power with a never seen before 100% money back guarantee. If you think Ripped Power doesn't compare to the Original Ripped Fuel, provides long lasting energy, or helps burn fat, we will refund all of your money. 100%. No one offers this kind of guarantee on weight loss products, so why do we? Simple. We are claiming that this product compares to Ripped Fuel, one of the most popular products of all time, and we are prepared to back that statement 100%.
Ripped Fuel was taken away in what seems like an instant. The people who stocked up were happy for months. Don't let the same happen with Ripped Power. Stock up today!
How to order Ripped Power
Click any of the add to cart buttons on this page, and you will be taken straight to the cart page to start the checkout process. Or call 1 (800) 277-2103 between 8:30 a.m. and 4:30 p.m. CST to order over the phone with one of our customer service specialists.
Don't continue to live your life with no energy or fire. Instead of getting home from work and plopping down on the couch, you can go for a long walk with a good friend. Instead of feeling irritated with your kid's energy, you can match it and show them the games you played as a kid. Instead of shopping for another new size in jeans, you can find that "brand new" pair that has been sitting in the bottom drawer for three years. Order Ripped Power today!
Original Ripped Fuel has been replaced (and beaten) by Ripped Power. Order today before it's too late!!!